For Individuals, Groups and Teams
FIND CLARITY AND INSPIRATION QUICKLY SO YOU CAN FOCUS ON WHAT'S IMPORTANT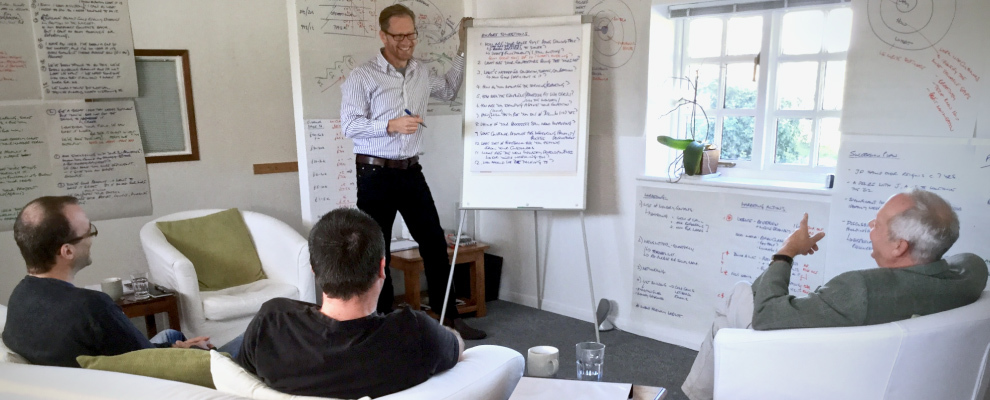 Martin Riley with clients at The Studio in Sussex
"Arriving at the studio I immediately felt more relaxed and focused. Without the usual distractions, we could see our business more clearly, and quickly highlighted what we need to do next. I was amazed at how much we achieved in such a short amount of time."
We believe most business owners are excellent at what they do, but with the demands of running a business it's easy to become burdened by detail, and side tracked with issues. Coaching with us allows you to see things more clearly, stay focused and make more progress.
We offer two core areas of focus:
Business Coaching - Creating simple but effective plans.
Leadership Training - Putting plans into action. Working better with people.
Business Coaching
The main objective of business coaching is to define and clarify the business strategy, annual priorities, quarterly plans and monthly goals.
Our coaching programmes help you to review progress, and identify any persistent barriers and obstacles to progress.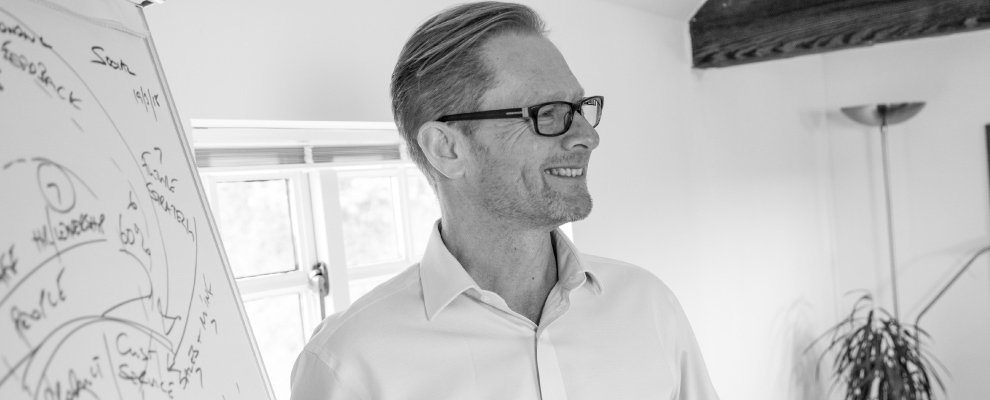 Created to help you get the big picture fast and see your business as a system, we designed, developed and tested over many years and with many businesses The Business Jet Engine®: a unique business planning tool.
This tool allows us to rapidly identify your top priorities and take immediate action in the right order and sequence. We then meet on a regular basis to evolve the plan and review progress against actions.
Hear from some of our past and present clients...
Leadership Training
Your ability to put plans into action is often down to your skill at leadership and management; influencing others - and yourself! We offer stand-alone leadership development programmes for teams but typically we weave leadership training into our business coaching programmes as required, to unblock obstacles and speed progress.
Developed and tested over 20 years, we use our own unique leadership model, The 7 Tasks of Leadership™, which like all our tools has proved to be the fastest way to help leaders understand and improve their own ability.
The most common concepts for leadership excellence include:
Leadership: developing excellence at all levels.
Strategic Planning: organisational and personal.
Culture: design, maintenance and change.
Scanning: measuring and monitoring change.
Problem Solving: thinking critically and creatively, alone and in groups.
Integrating: testing, refining and improving across the business.
Communication: influencing appropriately and effectively.
Relationships: nurturing vital contacts, reducing energy sappers.
Teamwork: engaging the talent and energy of the team.
Resolving Conflict: getting the most out of diversity and difference.
Health: reducing stress and raising energy.
Working with top executives in London and New York, and at the deepest level with personal clients, we're in a unique position to cover almost any area of getting the best out of yourself and others.
Coaching for Individuals, Groups and Teams
Individuals - Working one-to-one with business owners.
Groups - For small leadership teams of two to three people, or the introduction of key individuals when needed. We can accommodate small groups of up to 6 in The Studio.
Teams - When working with larger teams of managers, up to 12-15 people, we typically work at the client's site.
Join us at The Studio*
If you'd like to see first hand how business coaching can positively impact your business success join us for a complimentary consultation at our Studio in Sussex.
Call our office on 01424 892200 about booking your session today.
Alternatively, fill out the form on our contact page...
*Where face-to-face may be difficult, sessions are also highly effective and available online.